About Us
T's Room is a private therapy room for women; located 3 min. walk from JR & Keio Kichijoji station, nearby Inokashira Park.
Since our opening of 2013, we've offered the original method of aromatherapy body and facial treatments combined with Swedish massage, fascia release treatment, thalassotherapy body care, foot reflexology, and facial esthetic treatment, tailored to our clients' individual needs.
For us, health isn't only about physical wellbeing, but also about feeling balanced, happy and able to cope with the stress of everyday life.  Our sessions aims at restoring balance to your body and mind.
Please enjoy our "OMOTENASHI" and relaxing aromatherapy massage in the pleasant aroma of 100% pure essential oils.
Information
Hours
Monday- Friday 10:00-16:30
Saturday & Sunday 10:00-20:00
Address
502 Kichijoji-Gotenyama Duplex R's
1-2-1 Gotenyama, Musashino-shi, Tokyo
Contact
Email: tsroom2013@gmail.com (24H)

TEL: 070-6974-5167 10:00 ~ 16:30 (Sat&Sun ~20:00)

In case the therapist is unable to take your call due to treatment sessions, please leave a message and your name on the answering machine.

Others
-Reservation only
-Women only
-Cash only
Access Map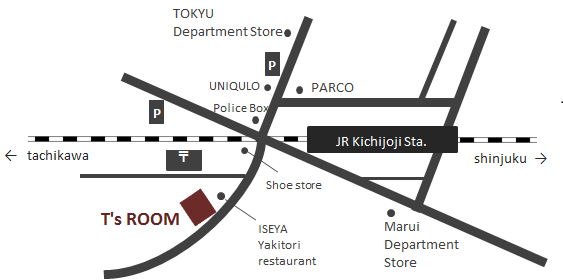 Treatment Menu
BODY TREATMENTS
Your therapist selects the essential oils most suited to you for an original blend for a massage treatment.  If you have stiff shoulders, we recommend you to add "Marine Body Mask" (back: +2,500) as an optional extra, which warms up your muscles and relax nervous tension.
60 min.  ¥11,000
90 min.   ¥13,000
120 min.   ¥15,000
FACIAL TREATMENTS
Your therapist selects the essential oils most suited to you for an original blend for a skincare treatment.   Begins with double-cleansing, a massage of the face, neck and shoulders, and a scalp massage while an herbal clay mask is applied.
90 min.  ¥13,000
120 min. (Includes back massage) ¥15,000
BODY & FACIAL COMBINATION TREATMENTS
Treatments most suitable for those who want to care both body & facial.  "Top to Toe 180min." is a special treatment tailored to your constitution and conditions of the day.
Body + Facial 150 min. ¥17,000
Top to Toe 180 min. (Footbath and other Add-Ons are included) ¥20,000
FOOT REFLEXOLOGY
"Pain-free" English style  reflexology, applying soft pressure on specific areas of the feet to stimulate healing in the corresponding organs, glands and structures.  Foot bath is included in Foot reflexology treatments.
Reflexology 60 min. ¥8,500
Reflexology 75 min. (massage below the knees included) ¥10,000
PRE & POST NATAL MASSAGE
<Available for pregnant women after 16 weeks gestation, with doctor's approval>
To celebrate your pregnancy, we provide a special offer of 10% discount during pregnancy and 12 months after childbirth.  You can choose any of the above treatments, but if this is your first time having an aromatherapy massage, we recommend shorter sessions (such as Body 60/90 min. or Facial 90 min.).    Pre-natal body massage is performed with Sim's positioning using pillows and foot rests.
For safety, we kindly ask you to bring "Mother-child notebook", called "Boshi-techo(母子手帳)", published by your municipal office in Japan.
SEASONAL TREATMENTS
A special course using seasonal recommended products.  Prices and contents may vary with the seasons.  For details, please visit our website (https: ts-room.biz) or contact us.
UPGRADES & ENHANCEMENTS FOR MASSAGE SERVICES
Footbath ¥500
Marine Body Mask* (Back)  ¥2,500
Marine Body Mask* (Bottom of the feet) ¥1,500
Foot Reflexology 30 min.    ¥2,500
(*) LYOMER's self-heating marine mud for a deep detox of the body's congested areas.  As the mud warms, tiny bubbles activate to micro-massage the skin, releasing tension and increasing tissue function.
GIFT CERTIFICATE
※ Gift certificates are available for ALL Treatments (we also have a special offer "Gift Course Collection").  For details, please contact the following email address.  We offer mail orders (Email: tsroom2013@gmail.com) of Gift certificates.
Tax is  included in the fee.
We only accept cash.
Please allow extra 40-50 min. for counseling, changing of clothes, and tea time after massage treatment.
Therapist
– Full member of IFA (International Federation of Aromatherapists)
– Aromatherapist & Instructor certified by AEAJ (Aroma Environment Association of Japan)
"Thank you for visiting our website!  My name is Tamamï, IFA therapist, a mother of 3 year old boy.   My best time to be a therapist is to see our clients feel more relaxed, released, and energized after massage treatments.  If you have any questions, please email us (tsroom2013@gmail.com) at any time.  I'm looking forward to seeing you in the near feature."